Directors Lounge
and
W(h)at Is Jazz
present:
Raymond Salvatore Harmon
with the
Chicago Underground Trio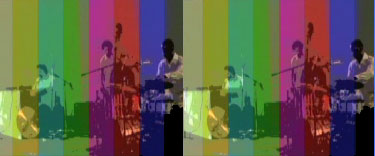 Chronicle, Raymond Salvatore Harmon´s feature length performance film with the Chicago Underground Trio, was a visual and musical highlight of Directors Lounge 2007.
Now, the Chicago Underground Trio and director Raymond Salvatore Harmon will turn the concert film 'Chronicle' inside out and perform a 'film concert' at the RAW Tempel

Chronicle is unlike any music/film performance made to date. Expect an evening verging into the psychedelic, both sonically and visually.

Raymond Salvatore Harmon is a Chicago based sound and film artist whose work spans the past century of technological cul de sacs. With a filmography extending from performance based 16mm and 8mm film to video circuit-bending and analog feedback installations as well as sound and visual conceptual installations and guerilla media actions.

Over the course of the past ten years Harmon has been developing and evolving the theoretical and practical applications of non object orient art. Utilizing new media, web based content and interactive architectures in coordination with public performance, graffiti style ad bombing, and web community social engineering propaganda Harmon's work has carved out an over arching form of new media insurgency.

"Accentuating the trio's vibrant performances with colorization, layered collages, dense textures and split-screen effects, [the filmmaker] becomes a virtual fourth member of the ensemble."
all about jazz
read more » »

The Chicago Underground Trio
Rob Mazurek
- Coronet, electronics
Jason Ajemian - bass
Mike Reed - Drums
The mercurial and improvisatory Chicago Underground debuted as the Chicago Underground Orchestra. Whether they perform as an orchestra, quintet, duo, trio, or quartet, the Chicago Underground members deftly weave acoustically based improvisatory compositions — often times redolent of the Ornette Coleman Quartet — with subtle electronics and moody atmospheric reliefs.
expand for a teasing video and location details




Sun November 18th, 9pm, doors open at 8pm.
RAW Tempel - Revaler Str.99 - Friedrichshain
next to U S station Warschauer Bruecke
admission 5.-€/7.-€


bigger map