"
Peep Show
"
J.X. Williams: Wrapped in an Enigma. If the filmmaker J. X. Williams didn't exist, someone would have had to invent him..
An exploitation filmmaker with a storied past, Williams is credited as director of the 1965 documentary "Peep Show" - a kind of spiritual vortex of sub rosa Americana surrounding the Kennedy assassination. After supposedly being suppressed for decades, it was recently shown at the Anthology Film Archives in New York, the Film Forum in Los Angeles and a handful of other museum, gallery and festival settings throughout the United States and Europe…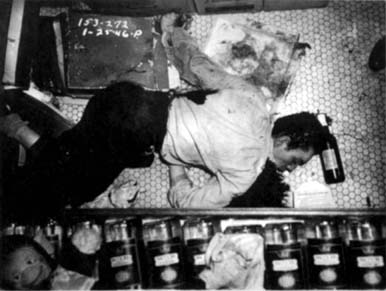 still from "
Peep Show
"
Shot in stark black-and-white and augmented with copious archival film, "
Peep Show
" tells a tangled tale of a rigged 1960 election, secret C.I.A. training camps in the Florida outback, sex stings in Mafia hotels and a little-known Mob plot to addict Frank Sinatra to heroin.
Noel Lawrence, who offers his title as curator of the
J. X. Williams Archive
in San Francisco serves as a kind of one-man advocate for Williams. According to Mr. Lawrence's spiel, Williams's résumé reads as a RKO mail-room flunky, closet Communist, abortive House Un-American Activities Committee witness, Mafia gofer, pioneer of mobbed-up stag loops, ghostwriter of some of the blacklist era's greatest films and incidental avatar of experimental cinema. Williams, as the story goes, has spent the last quarter-century in Zurich in self-imposed exile, leaving Mr. Lawrence to serve as a Robert Maheu figure to his shadowy late-stage Howard Hughes.
(NY Times)
Psych-Burn (1968)
J.X. Williams' lost masterpiece "The Virgin Sacrifice" (1970)
Tomorrow, Sunday 8th,
film curator and archivist Noel Lawrence will share a few of the surviving artifacts of Williams´ tawdry career at
the 5th Berlin International Directors Lounge
. He also will be previewing excerpts from his forthcoming documentary, "J.X. Williams L.A." which chronicles the misadventures of the mad auteur in Hollywood.